When running for president Polk pledged to serve one term. As president he worked hard, fulfilled his campaign promises, and didn't run for reelection. He died 3 months after the conclusion of his presidency, having worked himself to exhaustion.
Ion drives
| | |
| --- | --- |
| Chang-Diaz | Franklin Chang Diaz |
The astronaut Franklin Chang Diaz formed a company and perfected the ion drive. Ion drives are essential for solar system exploration.
---
Caltech and MIT
Caltech

MIT

Juilliard

Manhattan School of Music

                         Caltech  MIT  U. Chicago  CUNY  Harvard  Juilliard  MSM

Biology                     *      *       *        *       *
Lab                         *      *       *        *       *
Mathematics                 *      *       *        *       *
Calculus                    *      *       *
Chemistry                   *      *
Multivariable Calculus      *      *
Mechanics (with Calculus)   *      *
Electromag (with Calculus)  *      *
Sports                      *      *
Differential equations      *
Quantum Mechanics           *
Thermodynamics              *

---
Roy Chapman Andrews
Roy Chapman Andrews (1884-1960) explored Mongolia for archaeological artifacts while fighing off snakes, bandits, sandstorms, and hostile governments, and is allegedly the real person that the movie character of Indiana Jones was patterned after. He created the metaphor of 'Outer Mongolia' as denoting any exceedingly remote place.
Andrews was born in Beloit, Wisconsin. As a child, he explored forests, fields, and waters nearby, developing marksmanship skills. He taught himself taxidermy and used funds from this hobby to pay tuition to Beloit College. After graduating, Andrews applied for work at the American Museum of Natural History in New York City. He so much wanted to work there that after being told that there were no openings at his level, Andrews took a job as a janitor sweeping floors, declaring that "these are *museum* floors!" He began collecting specimens for the museum and during the next few years, he worked and studied simultaneously, earning a Master of Arts degree in mammalogy from Columbia University.
In the 1920s, he went to Mongolia, hoping to find out something about the origins of the human race. He didn't find out anything about early humans, but he discovered a treasure trove of dinosaur bones. During four expeditions in the Gobi Desert between 1922 and 1925, he discovered Protoceratops, a nest of Protoceratops eggs, Pinacosaurus, Saurornithoides, Oviraptor and Velociraptor, none of which were known before.
The dumbasses: Cope and Marsh, for waging the "Bone Wars".
Each of the two paoentologists used underhanded methods to try to out-compete the other in the field, resorting to bribery, theft, and the destruction of bones. Each scientist also attacked the other in scientific publications, seeking to ruin his credibility and have his funding cut off.
Their search for fossils led them west to rich bone beds in Colorado, Nebraska, and Wyoming. From 1877 to 1892, both paleontologists used their wealth and influence to finance their own expeditions and to procure services and dinosaur bones from fossil hunters. By the end of the Bone Wars, both men had exhausted their funds in the pursuit of paleontological supremacy.
---
Nikola Tesla
In 1874, Tesla evaded being drafted into the Austro-Hungarian Army by running away to Tomingaj, near Gracac. There, he explored the mountains in hunter's garb. Tesla said that this contact with nature made him stronger, both physically and mentally. He read many books while in Tomingaj, and later said that Mark Twain's works had helped him to miraculously recover from his earlier illness.
In 1875, Tesla enrolled at Austrian Polytechnic in Graz, Austria, on a Military Frontier scholarship. During his first year, Tesla never missed a lecture, earned the highest grades possible, passed nine exams (nearly twice as many required), started a Serbian culture club, and even received a letter of commendation from the dean of the technical faculty to his father, which stated, "Your son is a star of first rank." Tesla claimed that he worked from 3 a.m. to 11 p.m., no Sundays or holidays excepted.] He was "mortified when [his] father made light of [those] hard won honors." After his father's death in 1879, Tesla found a package of letters from his professors to his father, warning that unless he were removed from the school, Tesla would be killed through overwork.
In June 1884, he relocated to New York City where he was hired by Thomas Edison to work at his Edison Machine Works on Manhattan's lower east side. Tesla's work for Edison began with simple electrical engineering and quickly progressed to solving more difficult problems. Tesla was offered the task of completely redesigning the Edison Company's direct current generators. In 1885, he said that he could redesign Edison's inefficient motor and generators, making an improvement in both service and economy. According to Tesla, Edison remarked, "There's fifty thousand dollars in it for you—if you can do it." This has been noted as an odd statement from an Edison whose company was stingy with pay and who did not have that sort of cash on hand. After months of work, Tesla fulfilled the task and inquired about payment. Edison, saying that he was only joking, replied, "Tesla, you don't understand our American humor." Instead, Edison offered a US$10 a week raise over Tesla's US$18 per week salary; Tesla refused the offer and immediately resigned.
In late 1886 Tesla met Alfred S. Brown, a Western Union superintendent, and New York attorney Charles F. Peck. The two men were experienced in setting up companies and promoting inventions and patents for financial gain. Based on Tesla's patents and other ideas they agreed to back him financially and handle his patents. Together in April 1887 they formed the Tesla Electric Company with an agreement that profits from generated patents would go 1/3 to Tesla, 1/3 to Peck and Brown, and 1/3 to fund development. They set up a laboratory for Tesla at 89 Liberty Street in Manhattan where he worked on improving and developing new types of electric motors, generators and other devices.
One of the things Tesla developed at that laboratory in 1887 was an induction motor that ran on alternating current, a power system format that was starting to be built in Europe and the US because of its advantages in long distance high voltage transmission. The motor used polyphase current which generated a rotating magnetic field to turn the motor (a principle Tesla claimed to have conceived of in 1882). This innovative electric motor, patented in May 1888, was a simple self-starting design that did not need a commutator, thus avoiding sparking and the high maintenance of constantly servicing and replacing mechanical brushes.
| | | | |
| --- | --- | --- | --- |
| Tesla's radio-controlled boat, the world's first drone | Tesla discovered X-rays before Roentgen | Alternating current induction motor | AC dynamo |
Tesla's demonstration of his induction motor and Westinghouse's subsequent licensing of the patent, both in 1888, put Tesla firmly on the "AC" side of the so-called "War of Currents," an electrical distribution battle being waged between Thomas Edison and George Westinghouse that had been simmering since Westinghouse's first AC system in 1886 and had reached the point of all out warfare by 1888. This started out as a competition between rival lighting systems with Edison holding all the patents for DC and the incandescent light and Westinghouse using his own patented AC system to power arc lights as well as incandescent lamps of a slightly different design to get around the Edison patent. The acquisition of a feasible AC motor gave Westinghouse a key patent in building a completely integrated AC system, but the financial strain of buying up patents and hiring the engineers needed to build it meant development of Tesla's motor had to be put on hold for a while. The competition resulted in Edison Machine Works pursuing AC development in 1890 and by 1892 Thomas Edison was no longer in control of his own company, which was consolidated into the conglomerate General Electric and converting to an AC delivery system at that point.
| | |
| --- | --- |
| Tesla demonstrates the wireless transmission of power | Wardenclyffe tower, built to transmit power across the Atlantic. |
In 1893, George Westinghouse won the bid to light the 1893 World's Columbian Exposition in Chicago with alternating current, beating out a General Electric bid by one million dollars. This World's Fair devoted a building to electrical exhibits. It was a key event in the history of AC power, as Westinghouse demonstrated the safety, reliability, and efficiency of a fully integrated alternating current system to the American public. At the Columbian Exposition, under a banner announcing the "Tesla Polyphase System", Tesla demonstrated a series of electrical effects previously performed throughout America and Europe, included using high-voltage, high-frequency alternating current to light a wireless gas-discharge lamp. An observer noted:
"Within the room was suspended two hard-rubber plates covered with tin foil. These were about fifteen feet apart, and served as terminals of the wires leading from the transformers. When the current was turned on, the lamps or tubes, which had no wires connected to them, but lay on a table between the suspended plates, or which might be held in the hand in almost any part of the room, were made luminous. These were the same experiments and the same apparatus shown by Tesla in London about two years previous, where they produced so much wonder and astonishment"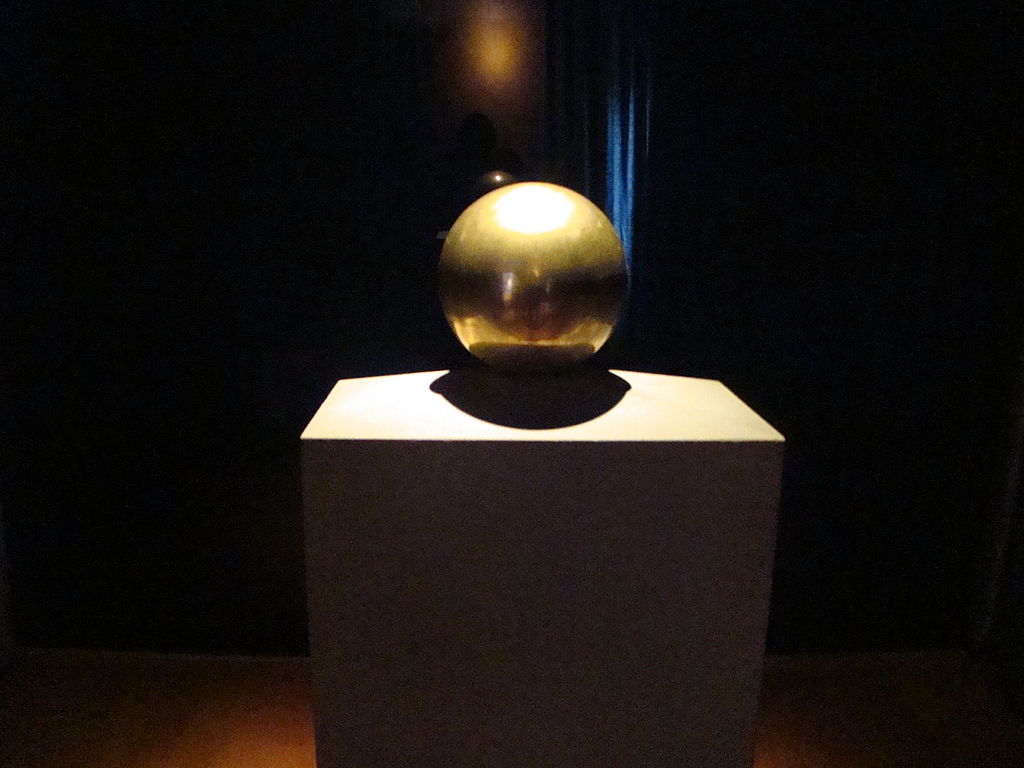 Gilded urn with Tesla's ashes, in his favorite geometrical object, a sphere (Nikola Tesla Museum, Belgrade).


Tesla possessed the powers of a Shaolin monk. From "https://teslauniverse.com/nikola-tesla/articles/miracle-mind-nikola-tesla":

He experienced a peculiar reaction when breathing deeply. When he breathed deeply he was overcome by a feeling of lightness, as if his body had lost all weight; and he should, he concluded, be able to fly through the air merely by his will to do so. He did not learn, in boyhood, that he was unusual in this respect.

A strange power permitted him to perform unusual feats in mathematics. He possessed it from early boyhood, but had considered it a nuisance and tried to be rid of it because it seemed beyond his control. If he thought of an object it would appear before him exhibiting the appearance of solidity and massiveness. So greatly did these visions possess the attributes of actual objects that it was usually difficult for him to distinguish between vision and reality. This abnormal faculty functioned in a very useful fashion in his school work with mathematics. If he was given a problem in arithmetic or algebra, it was immaterial to him whether he went to the blackboard to work it out or whether he remained in his seat. His strange faculty permitted him to see a visioned blackboard on which the problem was written, and there appeared on this blackboard all of the operations and symbols required in working out the solution. Each step appeared much more rapidly than he could work it out by hand on the actual slate. As a result, he could give the solution almost as quickly as the whole problem was stated.

Tesla's powers of memorizing were prodigious. A quick reading of a page gave him a permanent record of it; he could always recall before his eyes a photographic record of it to be read, and could study at his convenience. Study, for Tesla, was a far different process than for the average person. He had no need for a reference library; he could consult in his mind any page of any textbook he had read, and formula, equation, or item in a table of logarithms would flash before his eyes. He could recite scores of books, complete from memory. The saving in time which this made possible in research work was tremendous.

Tesla describes his faculty as follows:

During my boyhood I had suffered from a peculiar affliction due to the appearance of images, which were often accompanied by strong flashes of light. When a word was spoken, the image of the object designated would present itself so vividly to my vision that I could not tell whether what I saw was real or not... Even though I reached out and passed my hand through it, the image would remain fixed in space.

In trying to free myself from these tormenting appearances, I tried to concentrate my thoughts on some peaceful, quieting scene I had witnessed. This would give me momentary relief; but when I had done it two or three times the remedy would begin to lose its force. Then I began to take mental excursions beyond the small world of my actual knowledge. Day and night, in imagination, I went on journeys, saw new places, cities, countries, and all the time I tried hard to make these imaginary things very sharp and clear in my mind. I imagined myself living in countries I had never seen, and I made imaginary friends, who were very dear to me and really seemed alive.

This I did constantly until I was seventeen, when my thoughts turned seriously to invention. Then to my delight, I found I could visualize with the greatest facility. I needed no models, drawings, or experiments. I could picture them all in my mind.

By that faculty of visualizing, which I learned in my boyish efforts to rid myself of annoying images, I have evolved what is, I believe, a new method of materializing inventive ideas and conceptions. It is a method which may be of great usefulness to any imaginative man, whether he is an inventor, businessman or artist.

Some people, the moment they have a device to construct or any piece of work to perform, rush at it without adequate preparation, and immediately become engrossed in details, instead of the central idea. They may get results, but they sacrifice quality.

Here in brief, is my own method: after experiencing a desire to invent a particular thing, I may go on for months or years with the idea in the back of my head. Whenever I feel like it, I roam around in my imagination and think about the problem without any deliberate concentration. This is a period of incubation.

Then follows a period of direct effort. I choose carefully the possible solutions of the problem I am considering, and gradually center my mind on a narrowed field of investigation. Now, when I am deliberately thinking of the problem in its specific features, I may begin to feel that I am going to get the solution. And the wonderful thing is, that if I do feel this way, then I know I have really solved the problem and shall get what I am after.

The feeling is as convincing to me as though I already had solved it. I have come to the conclusion that at this stage the actual solution is in my mind subconsciously though it may be a long time before I am aware of it consciously.

Before I put a sketch on paper, the whole idea is worked out mentally. In my mind I change the construction, make improvements, and even operate the device. Without ever having drawn a sketch I can give the measurements of all parts to workmen, and when completed all these parts will fit, just as certainly as though I had made the actual drawings. It is immaterial to me whether I run my machine in my mind or test it in my shop.

The inventions I have conceived in this way have always worked. In thirty years there has not been a single exception. My first electric motor, the vacuum tube wireless light, my turbine engine and many other devices have all been developed in exactly this way.

Other inventors have had to a greater or lesser degree this power of visualization to see in the mind's eye, or on the wall of the bedroom, or upon an imaginary blackboard, a complete diagram or image of a layout or machine. But while this ability may be in some way connected with inventive ability, it is not essential. As a matter of recorded fact, visualization aided Tesla to work out the details, rather than to make the invention. It cannot be said that the power to invent is simply the power to visualize.

The quality that Tesla's inventiveness shared with that of other inventors was the quality of instantaneousness. While thinking of something else, while walking, dreaming, listening to a lecture or a sermon, suddenly the invention is there. There is no effort.

From "https://teslauniverse.com/nikola-tesla/articles/cold-fire":

This made the writer wonder what would happen if you stood on one pole of a very powerful Tesla coil. In a recent conversation with Dr. Nikola TesIa, the inventor pointed out that he had indeed performed many such experiments in his Colorado laboratory many years ago. The currents which he then used were far greater and higher than those produced anywhere now. Thousands of horsepower were used by him at that time. Dr. Tesla explained that he frequently stood upon one pole of his mastodonic coils while the full current was on. Of course, he had to stand upon a metallic plate, but he had to be careful so that no sparks jumped from his body to other objects or to the ceiling. This would have meant instant electrocution. Dr. Tesla pointed out that as the human body has a certain capacity, it radiated a good deal of energy into the surrounding air. Due to the tremendous current the sensation was anything but comfortable. The current heating the blood vessels raised the bodily temperature, and the experiment for this reason alone could not be extended for any great length of time. Dr. Tesla explained that during the experiment sparks and long spark-streams would envelop his entire body. At the extremities, elbows, knees, hip bones, nose, ears, etc., the spark display was most pronounced. Streams five to ten feet long would shoot out from the extremities with a crackling noise. Due to the exceedingly high frequencies used, however, the sparks did neither sting nor burn the flesh. Mr. Nikola Tesla's own words, his body, indeed, was enveloped in "cold fire". Dr. Tesla also explained that during the experiments his hair would rise on end, producing the same effect as if a large static machine had been used, with the well-known result, on the hair.

From "http://teslacommunity.com/page/tesla-time-line#.Vq7EG1UrJx0"

1880: Tesla is admitted to a hospital in Budapest, Hungry, experiencing flashes of light and mental images that he was having difficulty controlling. His sensitivity was so strong that he could hear a clock ticking three rooms away. He begins to feel much better focusing his ability to invent in his mind. He receives a visit from a school friend and they take a walk through the gardens surrounding the grounds. Tesla asks if his friend could leave his pocket watch with the nurse, as not to disturb the intensity of the ticking in his mind. They turn a corner as Tesla recites a poem, when suddenly he gets his Awe-awe moment, drawing the demonstration in the dirt pathway, he realizes that there is no need for the commutator and the excitation can be provided by a rotating magnetic field that will provide the need result creating a true square wave frequency to deliver energy. His friend is confused, having trouble visualizing the concept, but Tesla is so confident that he has concluded a break-through that will forever change the delivery of light on the planet. The missing puzzle that humiliated him in front of all his classmates by Professor Poeschl, Tesla so overwhelmed he must sit down on the bench next to them and tries to hide the tear rolling down his face. This break-through has been haunting him for years, confirming he was right all along from Professor Poeschl's dismissal of his concept.

1894, Tesla dines with Sarah Bernhardt at Delmonico's, which he frequents almost every evening. The waiters know exactly what to bring Tesla to make him very comfortable. Charles Demonico invites Tesla to join him and several of his friends, who are professional billiard players. Tesla is apprehensive at first, but Sarah encourages him until he agrees. After they dine, they join the group in a special room, decorated with a beautiful billiard table. Tesla watches a few games and declines the gentlemen's offer for a fifteen point lead. He wins the first three games against two of the best players in the world. On his way out, he leans over to Sarah and whispers in her ear, "it's simple mathematics".

1898, Late Tesla's 46 Houston street laboratory Citzo secures a mounting plate on a steel beam exactly to Tesla's instructions. Tesla prepares for his experiment, as he takes his electromechanical steam driven oscillator (seven inches long, weighing five pounds) and attaches it to the mounting plate. He then puts his ear against the oscillator and searches for the resonance of the steel beam that should be uniform to the entire building. He uses a tuning fork to set the frequency range of the gage. Suddenly, everything starts shaking. Fruit flying off of the carts, buildings sway and bricks start of break loose. Tesla has created an earthquake like experience all within a five block radius. The police are flooded with telephone calls as their chairs are rolling all around the office. Tesla can't stop the frequency so he grabs a sledge hammer sitting in the corner or his laboratory and breaks the oscillator just as the policemen break open the door. Tesla says to the policemen, very calmly, "Too bad gentlemen, you've just missed a very interesting experiment".

From "http://www.bibliotecapleyades.net/tesla/esp_tesla_26.htm":

When at age seventeen Tesla first turned to invention, he realized that his childhood ability to visualize objects in three dimensions, once a curse, had become a precious gift, allowing him to materialize mentally the design of any machine he wished to create, to take it apart and put it back together, or simply to observe it in action.

When he built real-life machines to the specifications of his own imagining, they operated exactly as he had foreseen.

It was not until Tesla read, in Serbian translation, a remarkable novel, Aoafi, by the Hungarian writer Josika that he was given a clue about how to control the random unearthly forces coursing through him. The novelist's observations introduced him to an ingredient of the human psyche the existence and force of which he had not yet suspected: will-power. Extrapolating from hints in the text, he began to practice inner control his resolution to separate his intent from the clutch of habit at first would fade all too easily, but after doggedly pursuing his effort over several years, he was able to reach a state in which will became identical with desire.

The dumbass: Thomas Edison, who had the Employee of the Century on his payroll, blew it, and spent the rest of his life getting his butt kicked by Tesla.

"Nikola Tesla", the 1980 movie. The scene at time=42:00 characterizes Edison's folly.
---
Paul MacCready
| | | |
| --- | --- | --- |
| The Gossamer Albatros | | The MacCready speed ring |
Built the first human-powered aircraft.
Founded the theory of gliding.
World gliding champion.
In 1985 he was commissioned to build a halfscale working replica of the pterosaur Quetzalcoatlus for the Smithsonian Institution, following a workshop in 1984 concluded that such a replica was feasible. The completed remote-controwhichlled flying reptile, with a wingspan of 18 feet, was filmed over Death Valley, California in 1986 for the Smithsonian's IMAX film On the Wing. It flew successfully several times before being severely damaged in a crash at an airshow at Andrews AFB in Maryland.
---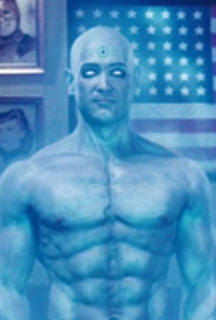 The Manhattan project
---
Leo Szilard, Genius in the Shadows
Leo Szilard was a Hungarian-American physicist and inventor. He conceived the nuclear chain reaction in 1933, patented the idea of a nuclear reactor with Enrico Fermi, and in late 1939 wrote the letter for Albert Einstein's signature that resulted in the Manhattan Project that built the atomic bomb.
From 1908 to 1916 he attended Realiskola high school in his home town. Showing an early interest in physics and a proficiency in mathematics, in 1916 he won the Eotvos Prize, a national prize for mathematics. In Hungary this is a big deal, where mathematics is as prestigious as wrestling is in the rural Midwest. Other Hungarian physicists from this age include von Neumann, Erdos, Teller, Wigner, von Karman, Eotvos, and Lanczos. Such was the might of Hungarian physicists that it was speculated they were aliens.
| | | | | | | |
| --- | --- | --- | --- | --- | --- | --- |
| von Neuman | Erdos | von Karman | Wigner | Eotvos | Teller | Dr. Strangelove |
Szilard attended Friedrich Wilhelm University, where he attended lectures given by Albert Einstein, Max Planck, Walter Nernst, James Franck and Max von Laue. He also met fellow Hungarian students Eugene Wigner, John von Neumann and Dennis Gabor. His doctoral dissertation on thermodynamics (On The Manifestation of Thermodynamic Fluctuations), praised by Einstein, won top honors in 1922. It involved a long-standing puzzle in the philosophy of thermal and statistical physics known as Maxwell's demon, a thought experiment originated by the physicist James Clerk Maxwell. The problem was thought to be insoluble, but in tackling it Szilard recognized the connection between thermodynamics and Information theory.
In September 12, 1933, Szilard read an article in The Times summarizing a speech given by Lord Rutherford in which Rutherford rejected the feasibility of using atomic energy for practical purposes. The speech remarked specifically on the recent 1932 work of his students, John Cockcroft and Ernest Walton, in "splitting" lithium into alpha particles, by bombardment with protons from a particle accelerator they had constructed. Rutherford went on to say:
"We might in these processes obtain very much more energy than the proton supplied, but on the average we could not expect to obtain energy in this way. It was a very poor and inefficient way of producing energy, and anyone who looked for a source of power in the transformation of the atoms was talking moonshine. But the subject was scientifically interesting because it gave insight into the atoms."
Szilard was so annoyed at Rutherford's dismissal that he conceived of the idea of nuclear chain reaction (analogous to a chemical chain reaction), using recently discovered neutrons. The idea did not use the mechanism of nuclear fission, which was not yet discovered, but Szilard realized that if neutrons could initiate any sort of energy-producing nuclear reaction, such as the one that had occurred in lithium, and could be produced themselves by the same reaction, energy might be obtained with little input, since the reaction would be self-sustaining.
In November 1938, Szilard moved to New York City. In 1939, Niels Bohr brought news to New York of the discovery of nuclear fission in Germany by Otto Hahn and Fritz Strassmann, and its theoretical explanation by Lise Meitner, and Otto Frisch. When Szilard found out about it on a visit to Wigner at Princeton University, he immediately realized that uranium might be the element capable of sustaining a chain reaction.
Szilard and Zinn conducted a simple experiment on the seventh floor of Pupin Hall at Columbia, using a radium-beryllium source to bombard uranium with neutrons. They discovered significant neutron multiplication in natural uranium, proving that a chain reaction might be possible. Szilard later described the event: "We turned the switch and saw the flashes. We watched them for a little while and then we switched everything off and went home". He understood the implications and consequences of this discovery, though. "That night, there was very little doubt in my mind that the world was headed for grief"

Szilard persuaded Fermi and Herbert L. Anderson to try a larger experiment using 500 pounds (230 kg) of uranium. To maximize the chance of fission, they needed a neutron moderator to slow the neutrons down. Hydrogen was a known moderator, so they used water. The results were disappointing. It became apparent that hydrogen slowed neutrons down, but also absorbed them, leaving fewer for the chain reaction. Szilard then suggested Fermi use carbon, in the form of graphite. He felt he would need about 50 tonnes (49 long tons; 55 short tons) of graphite and 5 tonnes (4.9 long tons; 5.5 short tons) of uranium. As a back-up plan, Szilard also considered where he might find a few tons of heavy water; deuterium would not absorb neutrons like ordinary hydrogen, but would have the similar value as a moderator. Such quantities of materiel would require a lot of money.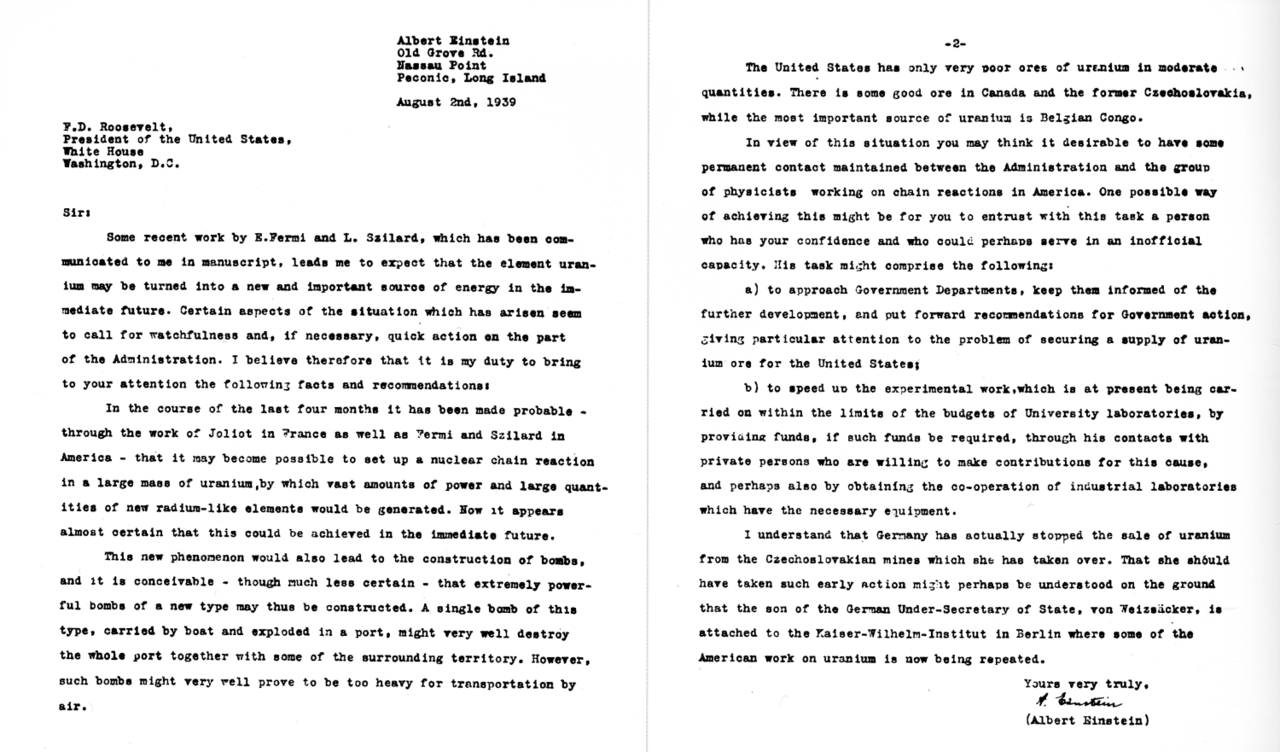 Szilard drafted a confidential letter to the President, Franklin D. Roosevelt, explaining the possibility of nuclear weapons, warning of German nuclear weapon project, and encouraging the development of a program that could result in their creation. With the help of Wigner and Edward Teller, he approached his old friend and collaborator Einstein in August 1939, and convinced him to sign the letter, lending his fame to the proposal. The Einstein-Szilard letter resulted in the establishment of research into nuclear fission by the U.S. government, and ultimately to the creation of the Manhattan Project. Roosevelt gave the letter to his aide, Brigadier General Edwin M. "Pa" Watson with the instruction: "Pa, this requires action!"
The Shadow knows!
Fermi and Szilard met with representatives of National Carbon Company, who manufactured graphite, where Szilard made another important discovery. By quizzing them about impurities in their graphite, he found that it contained boron, a neutron absorber. He then had graphite manufacturers produce boron-free graphite. Had he not done so, they might have concluded, as the German nuclear weapon project did, that graphite was unsuitable for use as a neutron moderator. Like the German project, Fermi and Szilard still believed that enormous quantities of uranium would be required for an atomic bomb, and therefore concentrated on producing a controlled chain reaction. Fermi determined that fissioning uranium atom produced 1.73 neutrons on average. It was enough, but a careful design was call for to minimize losses. Szilard worked up various designs for a nuclear reactor. "If the uranium project could have been run on ideas alone," Wigner later remarked, "no one but Leo Szilard would have been needed."