Curtis LeMay
LeMay received a degree in civil engineering from Ohio State University.
Robert McNamara described LeMay's character, in a discussion of a report into high abort rates in bomber missions during World War II:
"One of the commanders was Curtis LeMay, a Colonel in command of a B-24 group. He was the finest combat commander of any service I came across in war. He said, 'I will be in the lead plane on every mission. Any plane that takes off will go over the target, or the crew will be court-martialed.' The abort rate dropped overnight. Now that's the kind of commander he was."
When his crews were not flying missions, they were subjected to relentless training, as he believed that training was the key to saving their lives. Throughout his career, LeMay was widely and fondly known among his troops as "Old Iron Pants" and the "Big Cigar". LeMay once said: "Flying fighters is fun. Flying bombers is important."
In 1951, Gen. Curtis Lemay appointed Emilio "Mel" Bruno, his Judo teacher and a former national American Athletic Union Wrestling champion and fifth degree black belt in Judo, to direct a command-wide Judo and combative measures program.
Curtis LeMay is credited with designing and implementing an effective bombing campaign in the Pacific theater of World War II, including a crippling minelaying campaign in Japan's internal waterways. The war was effectively over long before the nuclear strike because of the success of the naval blockade.
LeMay piloted one of three specially modified B-29s flying from Japan to the U.S. in September 1945, in the process breaking several aviation records at that date, including the greatest USAAF takeoff weight, the longest USAAF non-stop flight, and the first ever non-stop Japan-Chicago flight. One of the pilots was of higher rank: Lieutenant General Barney M. Giles. The other two aircraft used up more fuel than LeMay's in fighting headwinds, and they could not fly to Washington, D.C., the original goal. Their pilots decided to land in Chicago to refuel. LeMay's aircraft had sufficient fuel to reach Washington, but he was directed by the War Department to join the others by refueling at Chicago. The order was ostensibly given because of borderline weather conditions in Washington, but according to First Lieutenant Ivan J. Potts who was on board, the order came because LeMay had one fewer general's stars and should not be seen to outperform his superior.
In 1947, he returned to Europe as commander of USAF Europe, heading operations for the Berlin Airlift in 1948 in the face of a blockade by the Soviet Union and its satellite states that threatened to starve the civilian population of the Western occupation zones of Berlin. Under LeMay's direction, Douglas C-54 Skymasters that could each carry 10 tons of cargo began supplying the city on July 1. By the fall, the airlift was bringing in an average of 5,000 tons of supplies a day with 500 daily flights. The airlift continued for 11 months (213000 flights) that brought in 1.7 million tons of food and fuel to Berlin. Faced with the failure of its blockade, the Soviet Union relented and reopened land corridors to the West. Though LeMay is sometimes publicly credited with the success of the Berlin Airlift, it was, in fact, instigated by General Lucius D. Clay when General Clay called LeMay about the problem. LeMay initially started flying supplies into Berlin, but then decided that it was a job for a logistics expert and he found that person in Lt. General William H. Tunner, who took over the operational end of the Berlin Airlift.
In 1948, he returned to the U.S. to head the Strategic Air Command (SAC). When LeMay took over command of SAC, it consisted of little more than a few understaffed B-29 bombardment groups left over from World War II. Less than half of the available aircraft were operational, and the crews were undertrained. Base and aircraft security standards were minimal. Upon inspecting a SAC hangar full of US nuclear strategic bombers, LeMay found a single Air Force sentry on duty, unarmed. After ordering a mock bombing exercise on Dayton, Ohio, LeMay was shocked to learn that most of the strategic bombers assigned to the mission missed their targets by one mile or more. "We didn't have one crew, not one crew, in the entire command who could do a professional job" noted LeMay.
A meeting in November, 1948 with Air Force Chief of Staff, Hoyt Vandenberg, found the two men agreeing the primary mission of SAC should be the capability of delivering 80% of the nation's atomic bombs in one mission. Towards this aim, LeMay delivered the first SAC Emergency War Plan in March 1949 which called for dropping 133 atomic bombs on 70 cities in the USSR within 30 days. Air power strategists called this type of pre-emptive strike, "killing a nation." However, the Harmon committee, released their unanimous report two months later stating such an attack would not end a war with the Soviets and their industry would quickly recover. This committee had been specifically created by the Joint Chiefs of Staff to study the effects of a massive nuclear strike against the Soviet Union. Nevertheless, within weeks, an ad hoc Joint Chiefs committee recommended tripling America's nuclear arsenal, and Chief of Staff Vandenberg called for enough bombs to attack 220 targets, up from the previous 70.
Upon receiving his fourth star in 1951 at age 44, LeMay became the youngest four-star general in American history since Ulysses S. Grant and was the youngest four-star general in modern history as well as the longest serving in that rank. In 1956 and 1957 LeMay implemented tests of 24-hour bomber and tanker alerts, keeping some bomber forces ready at all times. LeMay headed SAC until 1957, overseeing its transformation into a modern, efficient, all-jet force. LeMay's tenure was the longest over an American military command in nearly 100 years.
General LeMay was instrumental in SAC's acquisition of a large fleet of new strategic bombers, establishment of a vast aerial refueling system, the formation of many new units and bases, development of a strategic ballistic missile force, and establishment of a strict command and control system with an unprecedented readiness capability. All of this was protected by a greatly enhanced and modernized security force, the Strategic Air Command Elite Guard. LeMay insisted on rigorous training and very high standards of performance for all SAC personnel, be they officers, enlisted men, aircrews, mechanics, or administrative staff, and reportedly commented, "I have neither the time nor the inclination to differentiate between the incompetent and the merely unfortunate."
A famous legend often used by SAC flight crews to illustrate LeMay's command style concerned his famous ever-present cigar. LeMay once took the co-pilot's seat of a SAC bomber to observe the mission, complete with lit cigar. When asked by the pilot to put the cigar out, LeMay demanded to know why. When the pilot explained that fumes inside the fuselage could ignite the airplane, LeMay reportedly growled, "It wouldn't dare."
Despite his uncompromising attitude regarding performance of duty, LeMay was also known for his concern for the physical well-being and comfort of his men. LeMay found ways to encourage morale, individual performance, and the reenlistment rate through a number of means: encouraging off-duty group recreational activities, instituting spot promotions based on performance, and authorizing special uniforms, training, equipment, and allowances for ground personnel as well as flight crews.
On LeMay's departure, SAC was composed of 224,000 airmen, close to 2,000 heavy bombers, and nearly 800 tanker aircraft.
LeMay was appointed Vice Chief of Staff of the United States Air Force in July 1957, serving until 1961. He advocated the introduction of satellite technology and pushed for the development of the latest electronic warfare techniques.
The memorandum from LeMay, Chief of Staff, USAF, to the Joint Chiefs of Staff, January 4, 1964, illustrates LeMay's reasons for keeping bomber forces alongside ballistic missiles: "It is important to recognize, however, that ballistic missile forces represent both the U.S. and Soviet potential for strategic nuclear warfare at the highest, most indiscriminate level, and at a level least susceptible to control. The employment of these weapons in lower level conflict would be likely to escalate the situation, uncontrollably, to an intensity which could be vastly disproportionate to the original aggravation. The use of ICBMs and SLBMs is not, therefore, a rational or credible response to provocations which, although serious, are still less than an immediate threat to national survival. For this reason, among others, I consider that the national security will continue to require the flexibility, responsiveness, and discrimination of manned strategic weapon systems throughout the range of cold, limited, and general war."
LeMay was a Heathkit customer and active amateur radio operator. He was famous for being on the air on amateur bands while flying on board SAC bombers. LeMay became aware that the new single sideband (SSB) technology offered a big advantage over amplitude modulation (AM) for SAC aircraft operating long distances from their bases. In conjunction with Heath engineers and Art Collins, he established SSB as the radio standard for SAC bombers in 1957.
LeMay was also a sports car owner and enthusiast (he owned an Allard J2). LeMay loaned out facilities of SAC bases for use by the Sports Car Club of America. He was awarded the Woolf Barnato Award, SCCA's highest award, for contributions to the Club, in 1954. In November 2006, it was announced that General LeMay would be one of the inductees into the SCCA Hall of Fame in 2007.
The dumbasses: The Press
LeMay enthusiastically supported racial integration in the U.S. military publicly and privately. In 1968 LeMay was the running mate to George Wallace in the presidential election, and he was dismayed to find himself attacked in the press as a racial segregationist because he was running with Wallace; he had never considered himself a bigot.
The quotation "we should bomb them back to the stone age" was falsely attributed to LeMay by the press. In an interview LeMay said: "I never said we should bomb them back to the Stone Age. I said we had the capability to do it."
---
Cray supercomputers
| | |
| --- | --- |
| The Cray-1, developed in 1976 | The Kraken Supercomputer, built in 2009 |
In the 70's and 80's, Cray supercomputers dominated the supercomputer world.
When asked what kind of CAD tools he used for the Cray-1, Seymour Cray said that he liked #3 pencils with quad paper pads. Cray recommended using the backs of the pages so that the lines were not so dominant. When he was told that Apple Computer had just bought a Cray to help design the next Apple Macintosh, Cray commented that he had just bought a Macintosh to design the next Cray.
---
Leo Szilard, Genius in the Shadows
Leo Szilard was a Hungarian-American physicist and inventor. He conceived the nuclear chain reaction in 1933, patented the idea of a nuclear reactor with Enrico Fermi, and in late 1939 wrote the letter for Albert Einstein's signature that resulted in the Manhattan Project that built the atomic bomb.
From 1908 to 1916 he attended Realiskola high school in his home town. Showing an early interest in physics and a proficiency in mathematics, in 1916 he won the Eotvos Prize, a national prize for mathematics. In Hungary this is a big deal, where mathematics is as prestigious as wrestling is in the rural Midwest. Other Hungarian physicists from this age include von Neumann, Erdos, Teller, Wigner, von Karman, Eotvos, and Lanczos. Such was the might of Hungarian physicists that it was speculated they were aliens.
| | | | | | | |
| --- | --- | --- | --- | --- | --- | --- |
| von Neuman | Erdos | von Karman | Wigner | Eotvos | Teller | Dr. Strangelove |
Szilard attended Friedrich Wilhelm University, where he attended lectures given by Albert Einstein, Max Planck, Walter Nernst, James Franck and Max von Laue. He also met fellow Hungarian students Eugene Wigner, John von Neumann and Dennis Gabor. His doctoral dissertation on thermodynamics (On The Manifestation of Thermodynamic Fluctuations), praised by Einstein, won top honors in 1922. It involved a long-standing puzzle in the philosophy of thermal and statistical physics known as Maxwell's demon, a thought experiment originated by the physicist James Clerk Maxwell. The problem was thought to be insoluble, but in tackling it Szilard recognized the connection between thermodynamics and Information theory.
In September 12, 1933, Szilard read an article in The Times summarizing a speech given by Lord Rutherford in which Rutherford rejected the feasibility of using atomic energy for practical purposes. The speech remarked specifically on the recent 1932 work of his students, John Cockcroft and Ernest Walton, in "splitting" lithium into alpha particles, by bombardment with protons from a particle accelerator they had constructed. Rutherford went on to say:
"We might in these processes obtain very much more energy than the proton supplied, but on the average we could not expect to obtain energy in this way. It was a very poor and inefficient way of producing energy, and anyone who looked for a source of power in the transformation of the atoms was talking moonshine. But the subject was scientifically interesting because it gave insight into the atoms."
Szilard was so annoyed at Rutherford's dismissal that he conceived of the idea of nuclear chain reaction (analogous to a chemical chain reaction), using recently discovered neutrons. The idea did not use the mechanism of nuclear fission, which was not yet discovered, but Szilard realized that if neutrons could initiate any sort of energy-producing nuclear reaction, such as the one that had occurred in lithium, and could be produced themselves by the same reaction, energy might be obtained with little input, since the reaction would be self-sustaining.
In November 1938, Szilard moved to New York City. In 1939, Niels Bohr brought news to New York of the discovery of nuclear fission in Germany by Otto Hahn and Fritz Strassmann, and its theoretical explanation by Lise Meitner, and Otto Frisch. When Szilard found out about it on a visit to Wigner at Princeton University, he immediately realized that uranium might be the element capable of sustaining a chain reaction.
Szilard and Zinn conducted a simple experiment on the seventh floor of Pupin Hall at Columbia, using a radium-beryllium source to bombard uranium with neutrons. They discovered significant neutron multiplication in natural uranium, proving that a chain reaction might be possible. Szilard later described the event: "We turned the switch and saw the flashes. We watched them for a little while and then we switched everything off and went home". He understood the implications and consequences of this discovery, though. "That night, there was very little doubt in my mind that the world was headed for grief"

Szilard persuaded Fermi and Herbert L. Anderson to try a larger experiment using 500 pounds (230 kg) of uranium. To maximize the chance of fission, they needed a neutron moderator to slow the neutrons down. Hydrogen was a known moderator, so they used water. The results were disappointing. It became apparent that hydrogen slowed neutrons down, but also absorbed them, leaving fewer for the chain reaction. Szilard then suggested Fermi use carbon, in the form of graphite. He felt he would need about 50 tonnes (49 long tons; 55 short tons) of graphite and 5 tonnes (4.9 long tons; 5.5 short tons) of uranium. As a back-up plan, Szilard also considered where he might find a few tons of heavy water; deuterium would not absorb neutrons like ordinary hydrogen, but would have the similar value as a moderator. Such quantities of materiel would require a lot of money.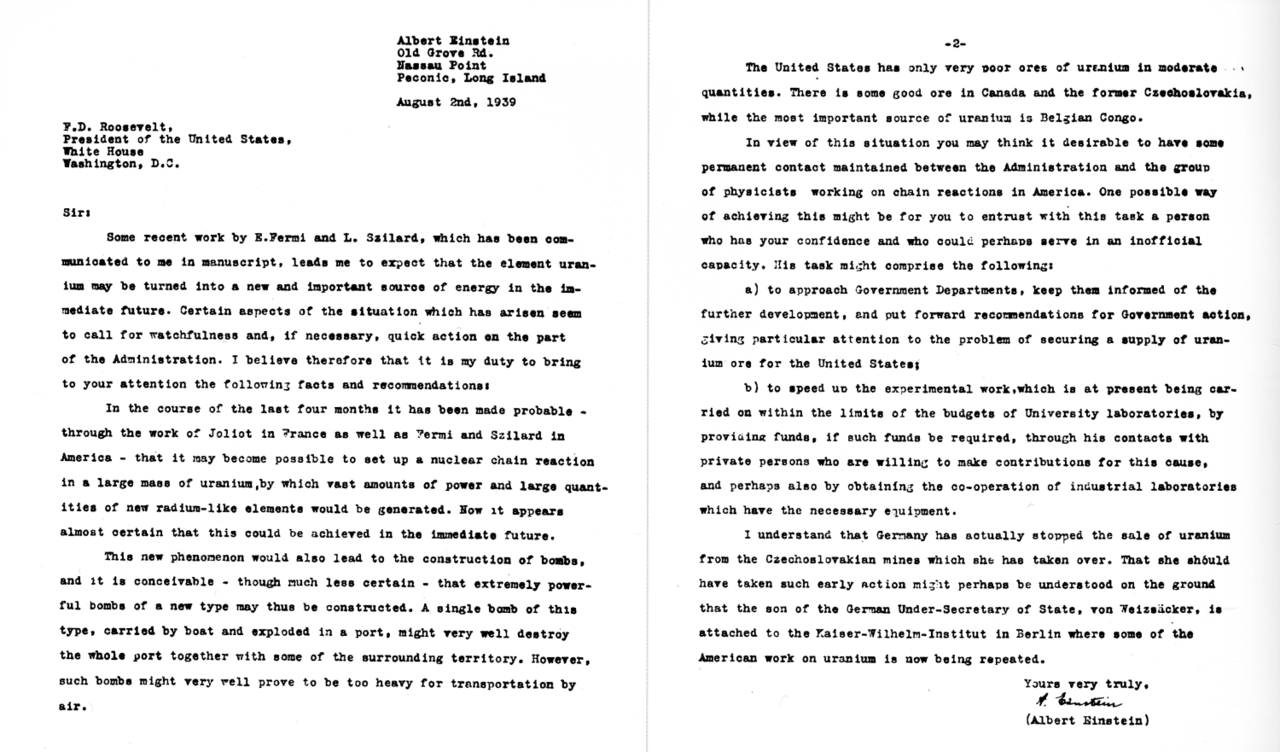 Szilard drafted a confidential letter to the President, Franklin D. Roosevelt, explaining the possibility of nuclear weapons, warning of German nuclear weapon project, and encouraging the development of a program that could result in their creation. With the help of Wigner and Edward Teller, he approached his old friend and collaborator Einstein in August 1939, and convinced him to sign the letter, lending his fame to the proposal. The Einstein-Szilard letter resulted in the establishment of research into nuclear fission by the U.S. government, and ultimately to the creation of the Manhattan Project. Roosevelt gave the letter to his aide, Brigadier General Edwin M. "Pa" Watson with the instruction: "Pa, this requires action!"
The Shadow knows!
Fermi and Szilard met with representatives of National Carbon Company, who manufactured graphite, where Szilard made another important discovery. By quizzing them about impurities in their graphite, he found that it contained boron, a neutron absorber. He then had graphite manufacturers produce boron-free graphite. Had he not done so, they might have concluded, as the German nuclear weapon project did, that graphite was unsuitable for use as a neutron moderator. Like the German project, Fermi and Szilard still believed that enormous quantities of uranium would be required for an atomic bomb, and therefore concentrated on producing a controlled chain reaction. Fermi determined that fissioning uranium atom produced 1.73 neutrons on average. It was enough, but a careful design was call for to minimize losses. Szilard worked up various designs for a nuclear reactor. "If the uranium project could have been run on ideas alone," Wigner later remarked, "no one but Leo Szilard would have been needed."