History of physics and music
In the 6th century BCE, Pythagoras developed a 12-tone scale based on the ratios 2/1 and 3/2. This tuning was widely used until the 16th century CE. Pythagorean tuning gives good results for fourths and fifths but poor results for thirds, and it is not possible to write contrapuntal music.
In the 2nd century CE, Ptolemy developed the "major scale", based on the frequency ratios 2/1, 3/2, 4/3, and 5/4. This scale allows for consonant thirds.


1523  Pietro Anon introduced "meantone tuning" to fix the thirds, using a
      frequency ratio of 5/4 for major thirds.  His treatise "Thoscanello de la
      musica" expanded the possibilities for chords and harmony.

1555  Amati develops the 4-string violin

1584  Equal tuning developed.  Equal tuning divides the octave logarithmically.
      The first known examples were:
      Vincenzo Galilei in 1584  (Father of Galileo Galilei)
      Zhu Zaiyu in 1584
      Simon Stevin in 1585

1585  Simon Stevin introduces decimal numbers to Europe.
      (For example, writing 1/8 as 0.125)

1586  Simon Stevin drops objects of varying mass from a church tower to demonstrate that
      they accelerate uniformly.

1604  Galileo publishes a mathematical description of acceleration.

1614  Logarithms invented by John Napier, making possible precise calculations
      of equal tuning ratios.  Stevin's calculations were mathematically sound but
      the frequencies couldn't be calculated with precision until logarithms were
      developed.

1637  Cartesian geometry published by Fermat and Descartes.
      This was the crucial development that triggered an explosion of mathematics
      and opened the way for the calculus.

1672  Newton builds the first reflecting telescope and presents it to the Royal Society

| | |
| --- | --- |
| A replica of Newton's telescope | Schematic of Newton's telescope |

1684  Leibniz publishes the calculus

1687  Newton publishes the Principia Mathematica, which contained the calculus,
      the laws of motion (F=MA), and a proof that planets orbit as ellipses.

1722  Bach publishes "The Well Tempered Clavier".

Until ~ 1650, most keyboards used meantone tuning. This tuning gives good results if you confine yourself to a small number of keys and use few accidentals, but it can't be made to work for all keys.

J.S. Bach tuned his own harpsichords and clavichords and he customized the tuning to work in all 24 keys ("well temperament"). He demonstrated its effectiveness in his 1722 work "The Well Tempered Clavier".

Just tuning is based on integer ratios and equal tuning is based on logarithms, and there is no direct connection between them. By freak mathematical coincidence, 12-tone equal tuning gives a set of notes that are nearly identical to those for just tuning (see the above table). The correspondence is close, but not exact, and violinists use a compromise between just and equal tuning that is highly situation dependent. The Bach Chaconne in D minor is a tour de force of just intonation.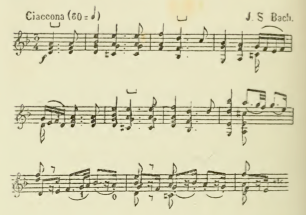 Bach Chaconne for viola
The synthesis of just and equal tuning offers rich contrapuntal possibilities, as was explored during the Baroque age by composers such as Vivaldi, Bach, and Handel.

1733  Euler develops the calculus of variations
1762  Lagrange discovers the divergence theorem, the 2D generalization of the
      fundamental theorem of calculus.
      The surface flux integral equals the volume divergence integral
1788  Lagrangian mechanics published
1821  Cauchy publishes the "epsilon-delta" definition of a limit, raising the
      level of rigor in mathematics.
1822  Fourier transform published
1828  Green's theorem. In 2D, the circulation integral equals the curl area integral
1833  Hamiltonian mechanics published
1834  Eikonal approximation developed by Hamilton
1850  Kelvin-Stokes theorem. 3D generalization of Green's theorem
1854  Riemann Integral published, the first rigorous definition of an integral
1854  Chebyshev polynomials published
1863  Helmholtz publishes "On the Sensations of Tone"
1870  Heine defines "uniform continuity"
1872  Heine proves that a continuous function on an open interval need not be
      uniformly continuous.
1872  Weierstrass publishes the "Weierstrass function", the first example of
      a function that is continuous everywhere and differentiable nowhere.
1877  Lord Rayleigh publishes "Theory of Sound"
1887  Poincare discovers the phenomenon of chaos while studying celestial mechanics
1926  WKB theory published
1935  Bourbaki textbooks published, with the aim of reformulating mathematics on
      an extremely abstract and formal but self-contained basis.  With the goal
      of grounding all of mathematics on set theory, the authors strove for rigour
      and generality.
1978  "Bender & Orszag" textbook published.  Art of blending special functions
      like Scotch.