Leo Szilard, Genius in the Shadows
Leo Szilard was a Hungarian-American physicist and inventor. He conceived the nuclear chain reaction in 1933, patented the idea of a nuclear reactor with Enrico Fermi, and in late 1939 wrote the letter for Albert Einstein's signature that resulted in the Manhattan Project that built the atomic bomb.
From 1908 to 1916 he attended Realiskola high school in his home town. Showing an early interest in physics and a proficiency in mathematics, in 1916 he won the Eotvos Prize, a national prize for mathematics. In Hungary this is a big deal, where mathematics is as prestigious as wrestling is in the rural Midwest. Other Hungarian physicists from this age include von Neumann, Erdos, Teller, Wigner, von Karman, Eotvos, and Lanczos. Such was the might of Hungarian physicists that it was speculated they were aliens.
| | | | | | | |
| --- | --- | --- | --- | --- | --- | --- |
| von Neuman | Erdos | von Karman | Wigner | Eotvos | Teller | Dr. Strangelove |
Szilard attended Friedrich Wilhelm University, where he attended lectures given by Albert Einstein, Max Planck, Walter Nernst, James Franck and Max von Laue. He also met fellow Hungarian students Eugene Wigner, John von Neumann and Dennis Gabor. His doctoral dissertation on thermodynamics (On The Manifestation of Thermodynamic Fluctuations), praised by Einstein, won top honors in 1922. It involved a long-standing puzzle in the philosophy of thermal and statistical physics known as Maxwell's demon, a thought experiment originated by the physicist James Clerk Maxwell. The problem was thought to be insoluble, but in tackling it Szilard recognized the connection between thermodynamics and Information theory.
In September 12, 1933, Szilard read an article in The Times summarizing a speech given by Lord Rutherford in which Rutherford rejected the feasibility of using atomic energy for practical purposes. The speech remarked specifically on the recent 1932 work of his students, John Cockcroft and Ernest Walton, in "splitting" lithium into alpha particles, by bombardment with protons from a particle accelerator they had constructed. Rutherford went on to say:
"We might in these processes obtain very much more energy than the proton supplied, but on the average we could not expect to obtain energy in this way. It was a very poor and inefficient way of producing energy, and anyone who looked for a source of power in the transformation of the atoms was talking moonshine. But the subject was scientifically interesting because it gave insight into the atoms."
Szilard was so annoyed at Rutherford's dismissal that he conceived of the idea of nuclear chain reaction (analogous to a chemical chain reaction), using recently discovered neutrons. The idea did not use the mechanism of nuclear fission, which was not yet discovered, but Szilard realized that if neutrons could initiate any sort of energy-producing nuclear reaction, such as the one that had occurred in lithium, and could be produced themselves by the same reaction, energy might be obtained with little input, since the reaction would be self-sustaining.
In November 1938, Szilard moved to New York City. In 1939, Niels Bohr brought news to New York of the discovery of nuclear fission in Germany by Otto Hahn and Fritz Strassmann, and its theoretical explanation by Lise Meitner, and Otto Frisch. When Szilard found out about it on a visit to Wigner at Princeton University, he immediately realized that uranium might be the element capable of sustaining a chain reaction.
Szilard and Zinn conducted a simple experiment on the seventh floor of Pupin Hall at Columbia, using a radium-beryllium source to bombard uranium with neutrons. They discovered significant neutron multiplication in natural uranium, proving that a chain reaction might be possible. Szilard later described the event: "We turned the switch and saw the flashes. We watched them for a little while and then we switched everything off and went home". He understood the implications and consequences of this discovery, though. "That night, there was very little doubt in my mind that the world was headed for grief"

Szilard persuaded Fermi and Herbert L. Anderson to try a larger experiment using 500 pounds (230 kg) of uranium. To maximize the chance of fission, they needed a neutron moderator to slow the neutrons down. Hydrogen was a known moderator, so they used water. The results were disappointing. It became apparent that hydrogen slowed neutrons down, but also absorbed them, leaving fewer for the chain reaction. Szilard then suggested Fermi use carbon, in the form of graphite. He felt he would need about 50 tonnes (49 long tons; 55 short tons) of graphite and 5 tonnes (4.9 long tons; 5.5 short tons) of uranium. As a back-up plan, Szilard also considered where he might find a few tons of heavy water; deuterium would not absorb neutrons like ordinary hydrogen, but would have the similar value as a moderator. Such quantities of materiel would require a lot of money.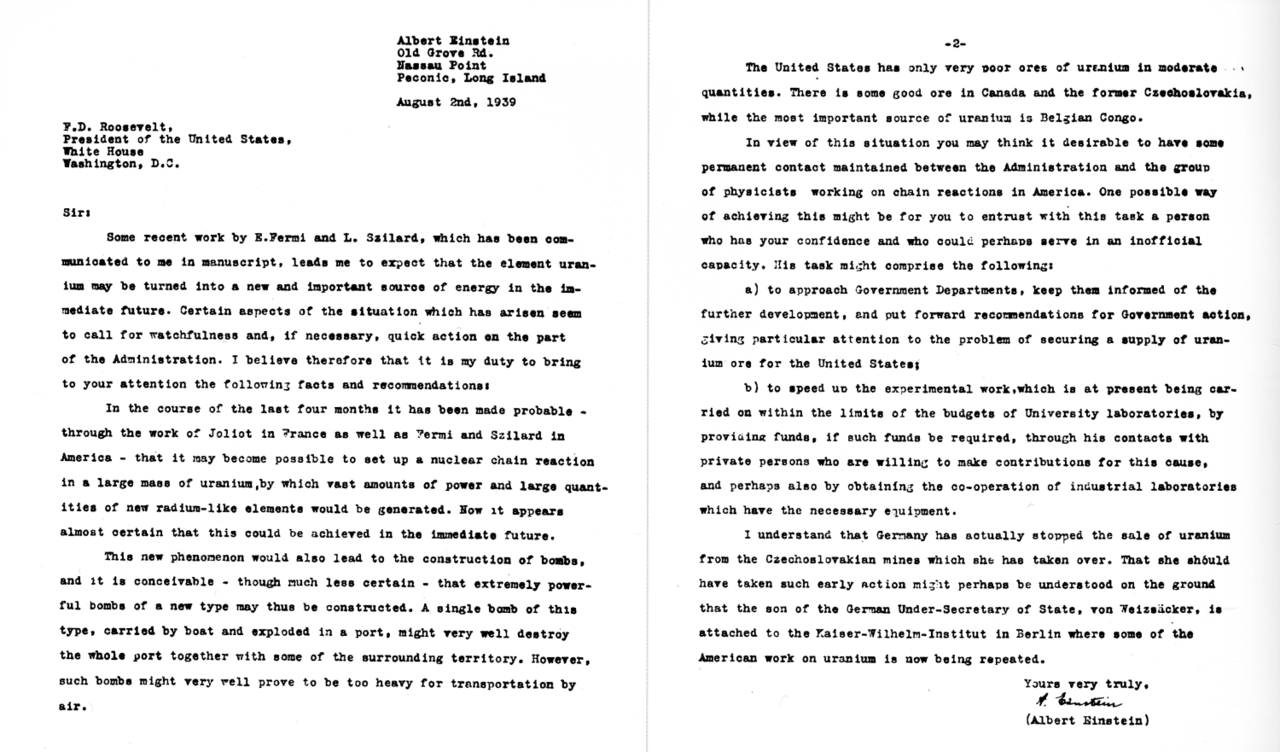 Szilard drafted a confidential letter to the President, Franklin D. Roosevelt, explaining the possibility of nuclear weapons, warning of German nuclear weapon project, and encouraging the development of a program that could result in their creation. With the help of Wigner and Edward Teller, he approached his old friend and collaborator Einstein in August 1939, and convinced him to sign the letter, lending his fame to the proposal. The Einstein-Szilard letter resulted in the establishment of research into nuclear fission by the U.S. government, and ultimately to the creation of the Manhattan Project. Roosevelt gave the letter to his aide, Brigadier General Edwin M. "Pa" Watson with the instruction: "Pa, this requires action!"
The Shadow knows!
Fermi and Szilard met with representatives of National Carbon Company, who manufactured graphite, where Szilard made another important discovery. By quizzing them about impurities in their graphite, he found that it contained boron, a neutron absorber. He then had graphite manufacturers produce boron-free graphite. Had he not done so, they might have concluded, as the German nuclear weapon project did, that graphite was unsuitable for use as a neutron moderator. Like the German project, Fermi and Szilard still believed that enormous quantities of uranium would be required for an atomic bomb, and therefore concentrated on producing a controlled chain reaction. Fermi determined that fissioning uranium atom produced 1.73 neutrons on average. It was enough, but a careful design was call for to minimize losses. Szilard worked up various designs for a nuclear reactor. "If the uranium project could have been run on ideas alone," Wigner later remarked, "no one but Leo Szilard would have been needed."